How We Measure
A well-fitted jacket or coat creates a dapper first impression. For a precise silhouette, there are five measurements to consider - shoulder, chest, waist, hip and sleeve.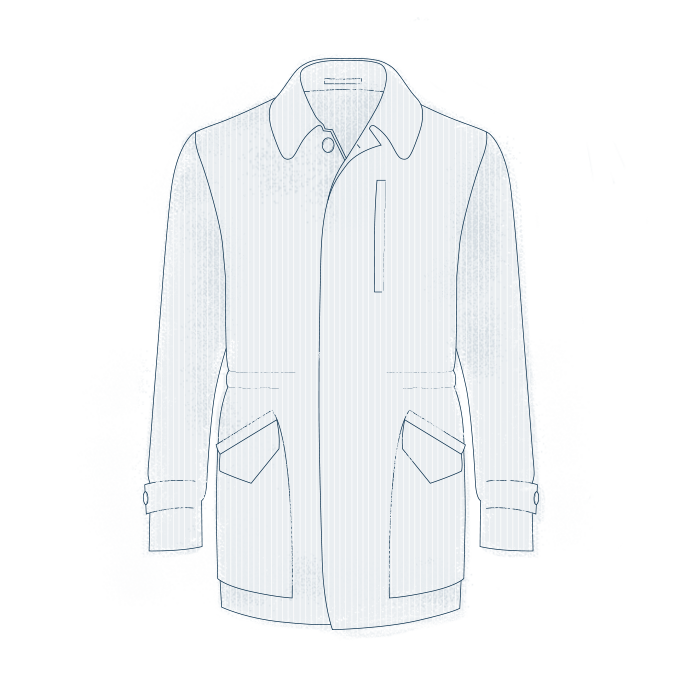 Length

Our outerwear lengths vary by product type. At Turnbull & Asser, we produce a variety of outerwear styles including longer length waterproofs, to luxurious mid-length cashmere outerwear to be worn over a suit. We advise that you take your usual size and check the size guide for full measurements.

Sleeve

Standing in an upright posture with your arms placed straight down by your sides, measure from the centre of your shoulder (about 1"/2.5cm below where your shirt collar sits) across the top of your shoulder, down the outside of your arm to a point 0.5"/1.3cm past the prominent bone of the wrist.

Chest

Keeping the measuring tape horizontal at all times, simply hold the measuring tape around the fullest part of your chest.
Size Charts
| | | | | | | |
| --- | --- | --- | --- | --- | --- | --- |
| Chest | 36" | 38" | 40" | 42" | 44" | 46" |
| Length | 37.8" | 38" | 38.2" | 38.4" | 38.6" | 38.8" |
| Sleeve | 26" | 26.2" | 26.4" | 26.6" | 26.8" | 27" |
| | | | | | | |
| --- | --- | --- | --- | --- | --- | --- |
| Chest | 91 | 97 | 102 | 107 | 112 | 117 |
| Length | 96 | 96.5 | 97 | 97.5 | 98 | 98.5 |
| Sleeve | 66 | 66.5 | 67 | 67.5 | 68 | 68.5 |
| | | | | | | | | |
| --- | --- | --- | --- | --- | --- | --- | --- | --- |
| Chest Size | 36 | 38 | 40 | 42 | 44 | 46 | 48 | 50 |
| Garment chest measurement | 38" | 40" | 42" | 44" | 46" | 48" | 50" | 52" |
| Garment Waist | 35" | 37" | 39" | 41" | 43" | 45" | 47" | 49" |
| Garment Hip | 36" | 38" | 40" | 42" | 44" | 46" | 48" | 50" |
| Garment Sleeve Length | 23 2/4" | 24 1/4" | 24 3/4" | 25 1/4" | 25 3/4" | 26 1/4" | 26 3/4" | 27 1/4" |
| Garment Back Length | 29 1/2" | 30" | 30" | 30 1/2" | 31" | 31 1/2" | 32" | 32 1/2" |
| | | | | | | | | |
| --- | --- | --- | --- | --- | --- | --- | --- | --- |
| Chest Size | 36 | 38 | 40 | 42 | 44 | 46 | 48 | 50 |
| Garment chest measurement | 91.4 | 96.5cm | 96.5cm | 106.7cm | 111.8cm | 116.8cm | 121.9cm | 127cm |
| Garment Waist | 88.9cm | 94cm | 99cm | 104cm | 109cm | 114.3cm | 119.4cm | 124.5cm |
| Garment Hip | 91.4 | 96.5cm | 96.5cm | 106.7cm | 111.8cm | 116.8cm | 121.9cm | 127cm |
| Garment Sleeve Length | 56.7cm | 62.6cm | 62.9cm | 64.14cm | 65.4cm | 66.7cm | 68cm | 69.2cm |
| Garment Back Length | 73.7cm | 76.2cm | 76.2cm | 77.5cm | 78.7cm | 80cm | 81.3cm | 82.6cm |